Avadh Technometals Pvt Ltd
"The new electronic independence re-creates the world in the image of a global village."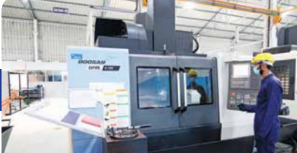 Avadh Rail Infra is a leading company in metal fabrication, rubber products, air suspension,
precision and electrical components. They are known for producing high-quality products
in critical applications in industries such as oil and gas, defence, railway, energy, and
power. We have 170,000 square feet of factory area spread over 370,000 square feet of land.
Modern manufacturing plants are equipped with high-precision computer numeric control
(CNC) machines that provide a wide range of facilities for machining small, medium, and large
precision components. These sophisticated machines use advanced software and hardware to
carry out precise operations, such as drilling, milling, and turning, with great accuracy and
repeatability